This interview with Annette Lennerup is another in the Everyday Artist Series. Click below to listen to this interview and look for 'Artful Adventures Podcast' in your favorite podcast app. Please let me know if it isn't coming up in the app where you like to listen podcasts, so we can try and get it added there!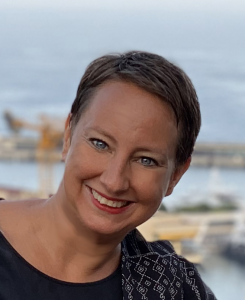 Annette has worked in the fashion industry as a fashion designer and product developer for the past 17 years. She has helped start-ups and small fashion brands with their design to production process for the past eight years.
Her journey has included becoming a completely self-taught fashion brand owner. Learning through doing is what drives her passion for helping others. Annette loves art and creating textile prints and surface pattern art.
You can find Annette online:
www.instagram.com/annette_lennerup
I hope you enjoyed this interview with Annette Lennerup! Be sure to come back for new releases each Wednesday. You can also visit the Artful Adventures Podcast page for interviews with other creatives!
Cheers to YOUR Artful Adventures,
Kristie