If you are a scrapbooker, you are probably documenting special moments of your family and friends. How often are you including your own story in those pages? Probably not as often as you should! You need to, so that you can tell your untold stories.
Don't forget, your stories are important!
YOUR story is important — the good and the bad, happy and sad. It is all about your life. There is so much I wish I knew about other people in my family from previous generations. Just a glimpse into their lives would be interesting. If you are fortunate enough to have some family heritage photos, do you know who the people are in them, or the stories about them? In the end, it's the stories and the pictures that are important.
What are your untold stories?
If you run across a photo that has a little bit of a back story, why not get that down on paper with the picture? It doesn't matter if the pictures are perfect. An imperfect photo is better than none at all, if that's all you have!
There is a story about my wedding cake
Here is a scrapbook page about about our wedding cake. I made this page during one of the first LayOut A Day challenges I participated in years ago. LayOut A Day has such great prompts, and it forever changed the way I scrapbook.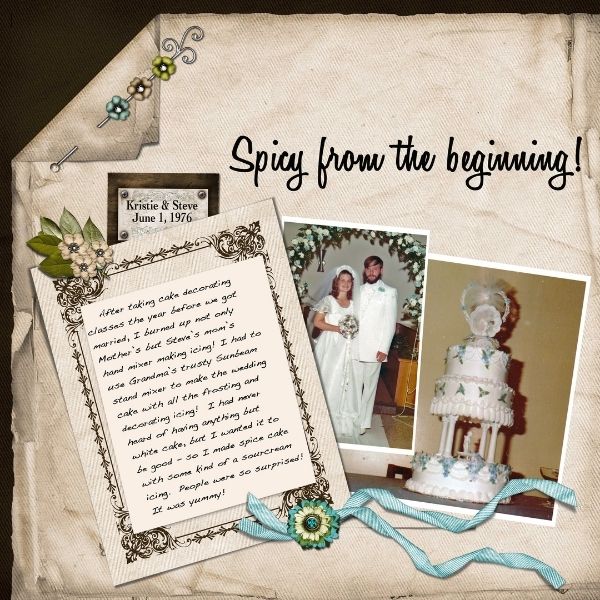 I took this photo of the cake while it was still on the kitchen table. I had taken cake decorating lessons during the year before we got married, as well as a wedding cake class. So I decided to make my own wedding cake! I ended up burning up the motors in both my mom's hand mixer, as well as my future mother-in-law's, from making all the icing for my classes! I ended up having to use my grandmother's stand mixer to complete the wedding cake.
Back then, I had never seen or heard of anything other than white wedding cake. I wanted ours to taste good, so I decided to make it a spice cake. Are there any superstitions about the flavor of your wedding cake? I don't know. If so, spice cake seems to be good luck for us. We have now been married for 44 years!
What pictures do you have that remind you of an untold story? Remember to add the details as if you are telling the story to someone who wasn't there, and has no idea about who is in the photo, or anything else about the photo.
Do you need help with journaling? Here is an excellent opportunity to learn more about journaling, dished out in bite-sized lessons through the year, with ScrapHappy. Pop over and get the details at ScrapHappy.org!
Here are a couple of other posts about scrapbooking / memory keeping, here on this website.
Cheers to YOUR Artful Adventures!
Kristie