This interview with Zakkiya Hamza is yet another in the Everyday Artist Series. Click below to listen to this interview and look for 'Artful Adventures Podcast' in your favorite podcast app. Please let me know If you don't find it, so it can be added!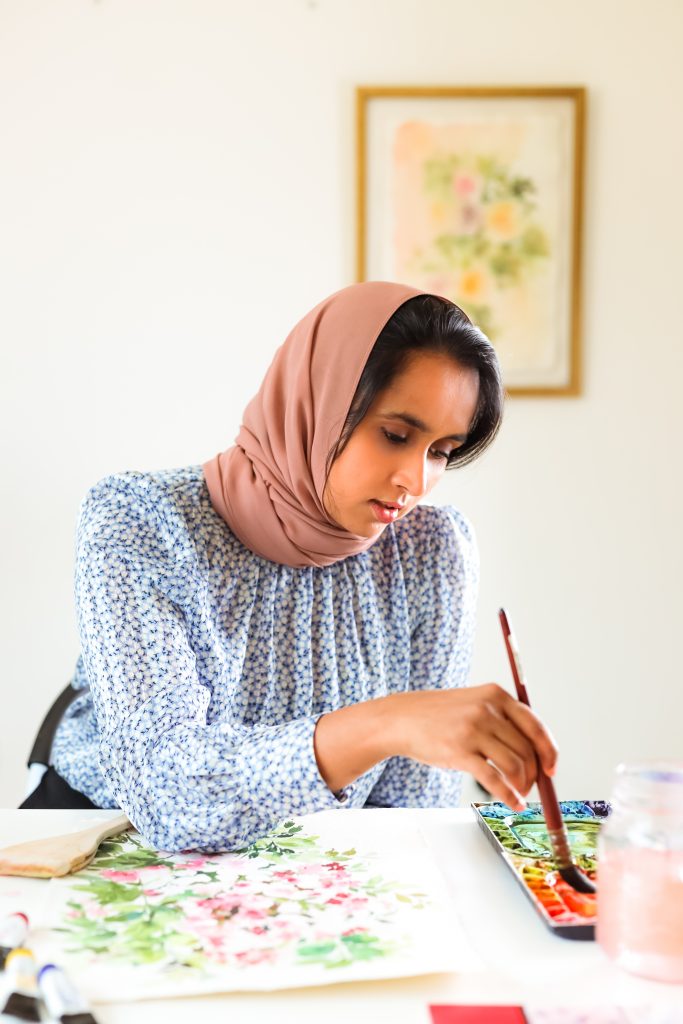 With an innate love for the medium, Zakkiya has been nurturing her signature style with watercolors for close to a decade. Her tryst with teaching began 5 years ago via her blog, online classes, e-books and over 30 in-person workshops. Through her online and in-person interactions, she has mentored over 8,000 art students.
She has garnered immense experience with L'Occitane, Qatar Museums Authority, West Elm. etc. Besides artwork, she also moulds her designs into calendars, children's apparel, yoga mats and other products.
An Indian-ex-pat, Zakkiya lives with her spouse and 2 kids at Doha, Qatar.
You can find Zakkiya online:
Website – www.inkstruck.com
Instagram – www.instagram.com/inkstruckstudio
Pinterest – www.pinterest.com/inkstruckstudio
Facebook – www.facebook.com/inkstruckstudio
I hope you enjoyed this interview with Zakkiya Hamza! New podcasts are released each Wednesday. You can also visit the Artful Adventures Podcast page for interviews with other creatives!
Cheers to YOUR Artful Adventures,
Kristie