Brighten the day with this butterflies and lace card!
Keeping occupied with something you enjoy doing is vital these days! What better than creating a bright and cheery butterflies and lace card?
Hopefully you have been keeping occupied with some creative time lately! It is a great way to pass time and keep your mind busy with something you enjoy. I would like to tell you that I have gotten loads done during this time of having to stay home, but it wouldn't be true! However, I'm feeling like I am getting back in my groove and am really enjoying creating! I truly wish I had been able to capture the shimmer applied to the butterflies. After all, who doesn't enjoy a little sparkle?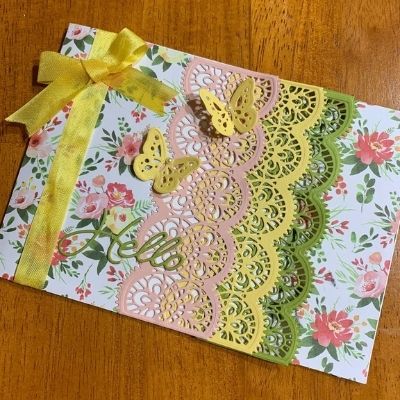 The card is 5″x7″, and opens at the edge of the green lace. The cut size of the card is 12″x5″ scoring at 5″ along the 12″ side for the fold.
This card was created with pattered paper and dies, including the Chantilly Lace border die are from Crafter's Companion. The solid color papers and the seam binding ribbon are from Stampin'Up.
Seriously, the "Hello" should be a little larger, as it becomes lost in the floral print. Yet it was already glued down, and it still makes me happy to look at.
Thanks for stopping by.
Enjoy YOUR Artful Adventures!
Kristie
previously published on original Artful Adventures site.