Halloween Scrapbook Page, A Blast From the Past
I ran across this page the other day, and it reminded me of how fun unexpected outcomes are! This is an old digital layout which looks like I did the left page in 2008 and added the right side the next year. I like to think my pages have gotten better over time! Even if these images aren't the best, the layouts aren't too bad! All that aside, they illustrate the point of this post.
Can you see what may be the unexpected outcome of this particular page? Look at the little ribbon bows. They remind me of little bats! Don't you agree?
First, I put little bows on top of the buttons to make it look like they were tied on. After I noticed they looked like little bats, I next put them in the open areas of the page, as if bats were flying in the sky. After I put the last one over the circle, I decided it reminded me of a silhouette in front of a full moon.
Here is the 2-page layout, with photos from two different years.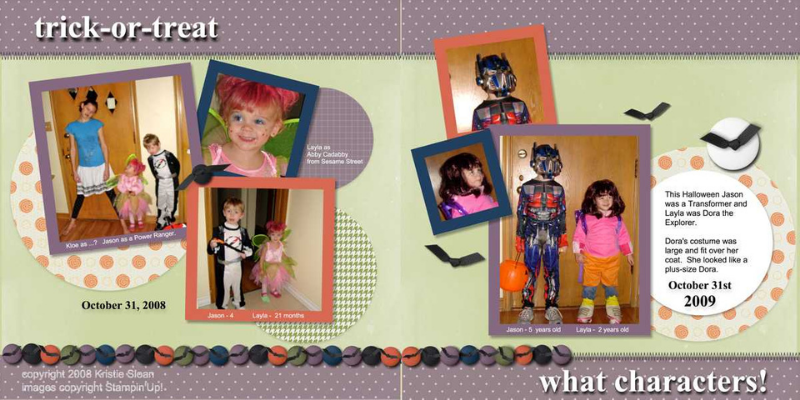 Sometimes I have just as much fun playing around with the elements on a page, as I do in creating the page as a way to keep the memory. How about you?
Do you have any favorite unexpected outcomes you've had on a scrapbook page? Let us know in comments at the bottom of the page.
Talking about fun, if you love Halloween, you might want to try creating your own painting to use year after year. No experience necessary! Here is info on the Witches Be Crazy online Paint Party!
If you are looking for a great online group of scrapbookers, try out ScrapHappy.org!
Cheers to YOUR Artful Adventures!
Kristie