Our interview guest this week on the Everyday Artist Series of Artful Adventures Podcast is Sarah Bill. Simply click below to listen. You can also find 'Artful Adventures Podcast' in your favorite podcast app. Please let us know if you don't find it in your favorite place to listen to podcasts. However, they are always available to listen to here!
Sarah Bill is a wife to a handy hubby, Mum to 2 cute kiddos and a life-long creative. She was born in Australia and immigrated to the United States to marry her American husband. (They met on a chance encounter, but you will have to follow her and get that story for another time!)
When Sarah was 5 years old, her Nanna introduced her to water colors. A spark was ignited and a love for being creative was born! Her Nanna taught her how to sew and knit when she was a little older. Then in high school, she realized how much she enjoyed Art class and loved to paint and draw.She has tried many arts and crafts over the years, but always come back to painting in some shape or form. There have been times in life when she did not create, even years, because well, life was busy! In 2014 after her daughter was born, she applied for a part-time job as a paint instructor at a local paint studio and her passion to create was ignited again!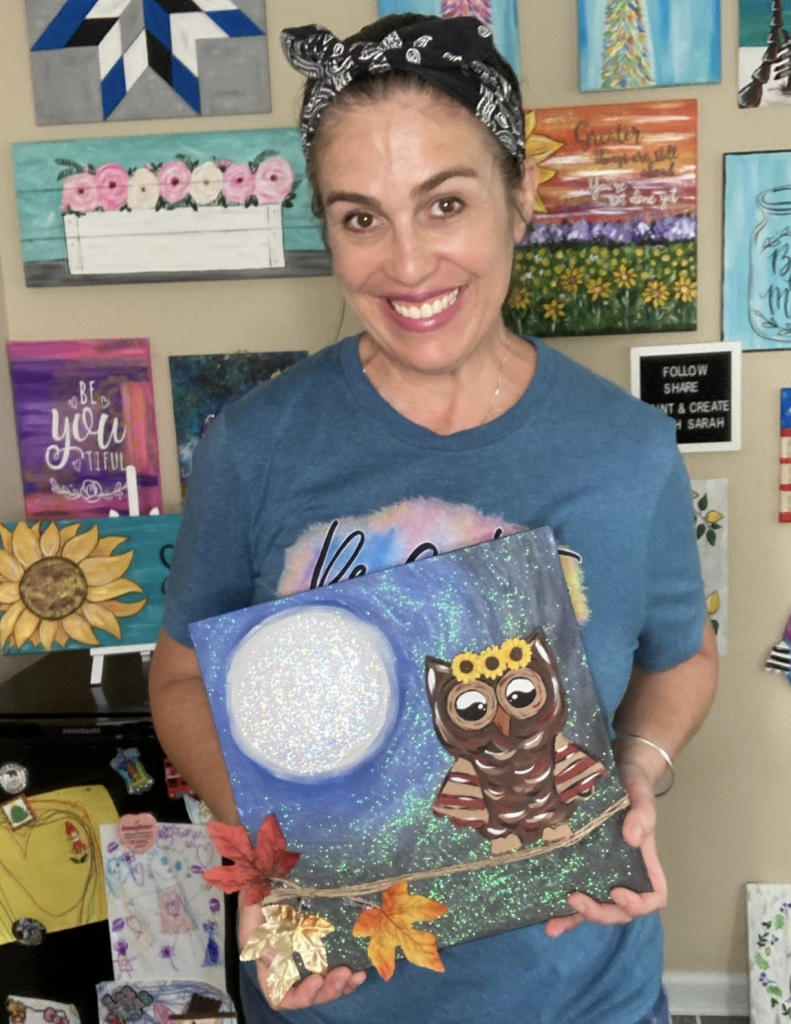 In May of 2020, she founded Paint and Create with Sarah. She teach adults and children fun paint classes in small and large groups. With a busy life, it is important to her to provide the opportunity and space to be creative for a few hours. She is passionate about what she does. Bringing people together to paint and create, relax, unwind and make new friends brings Sarah so much joy.
You can find Sarah Online:
Facebook https://www.facebook.com/paintandcreatewithsarah
Instagram https://www.instagram.com/paintandcreatewithsarah
I hope you have enjoyed this interview with Sarah Bill. Podcast episodes release on Wednesdays. You can find previous interviews with other creatives here on the Artful Adventures Podcast page right here on this website.
Until next time, Cheers to YOUR Artful Adventures!
Kristie