Unexpected Elements Add Interest in this Fall Owl Painting
Create some unexpected elements of a painting to add interest! Have you ever seen an owl resting on a pumpkin? I haven't, but isn't this fall owl painting even more fun with the addition of a stack of pumpkins?
You can add some interest to your work by reimagining. This little owl is resting on a pumpkin in the moonlight, enjoying a lovely fall evening. Some touches of gold add even a bit more whimsical look to the scene.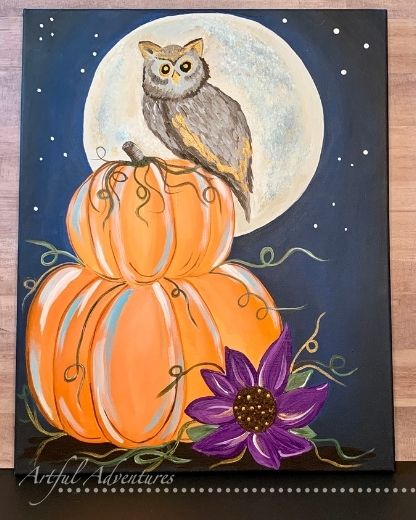 This was painted on a 16×20″ canvas, but could easily be done on a smaller size. What size do you think you would like?
Virtual painting classes are coming your way soon. So stay tuned! Here is another fun fall painting you may enjoy, the Witch and Cat.
Cheers to YOUR Artful Adventures!
Kristie